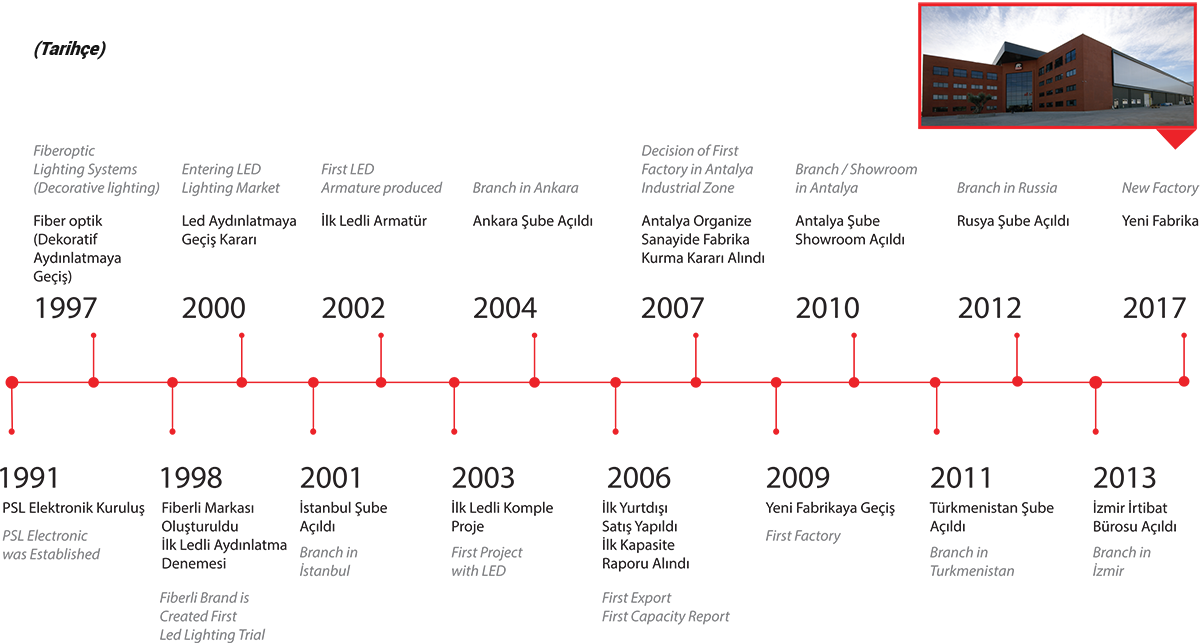 Our company, PSL Electronic, which is the first Turkish company that applies Fiber Optic lighting systems in Turkey as a manufacturer, was established in Antalya1991. Our company, which concentrated on "Professional Audio and Light" systems at fisrt, pursued studies on decorative Fiber Optic ligting applications in 1997 and accomplished applications which are highly successful and each of which is a first and trendsetter in its field. The achieved succesful projects have derived our company to concentrate in the filed of decorative architectural lighting and our company, gradually pulling away from the field of " audio and light" systems, completely steered towards the field of lighting by creating the "FİBERLİ" brand in 2000s.The pioneer works and projects that were conducted during this period, and the technological developments in the LED sector, put forth the first signs that a "LEDrevolution in Lighting" would occur. Our company,which foresaw this development and progress, made the decision to completely take part in the "LED Lighting"field as a manufacturer in the 2000s and began to make all of its investments in this direction. Within this framework, we began to domestically manufacture our first LED lighting products and supply to our customers in 2002. We, from the beginning, designated our manufacture philosophy on the basis of domestic manufacturing, high quality, customer oriented, respect, and affection towards human, environment and nature. Our company, which has never made concessions to these principles, has achieved to become one of the frontrunner and leading organisations in the field in our region in a short amount of time. In 2017, for the purpose of providing a service with much higher capacity, pace and quality, we have moved to our new factory established on a 20.000 m2 area within the Antalya Organized Industrial Zone and commenced manufacturing. Presently our company, which has accomplished more than 800 large scaled projects up untill now;

- Has nearly 400 hundred employees
- Has sales and service units located in numerous countries
- Carries out projects and applications customly designed for individuals or businesses,
- Has one of the four R&D center in Turkey's lighting industry
- Has design unit with a team of experts in lighting field.